Mikron Cascade is the perfect tool to create atmospheric, ambient and drone soundscapes. It diffuses any sound input into a lively, lush, warm 'sound cloud'. The fine-tuned delay models are specifically designed to create organic cinematic atmospheres. A little detuning of the source material can build up interesting tensions. Play around with the density setting to go from distinct reflections to colored noise. Or freeze the input to build up resonating sounds.
Mikron Cascade has been originally developed as a sound effect for the Cascade synthesizer. Thanks to its complex delay network a sound run through Mikron Cascade can develop over time, adding extra dimensions to it. Which makes it the ideal plugin for those who are looking for a high quality ambient reverb, but one with far more complexity in it than usual.
Features
can densify any signal up to 5832 times, and turn a succession of sounds into colored noise
the carefully designed delay network will add a pleasant complexity to the sound over time
6 different delay network models (fine-tuned and adapted to hearing)
freeze shortcut to build up ambient sound spheres easily
spin function for a subtle pitch modulation that adds movement to the delays
tone function to zoom in on certain frequencies in the feedback loop
intuitive, easy to use interface
demos
Learn how to create your own soundscapes with Mikron Cascade.
Mikron Cascade Audio Demo
Some ambient sounds made with Mikron Cascade
User interface
Hover over the controls to find out more about what you can do with Mikron Cascade.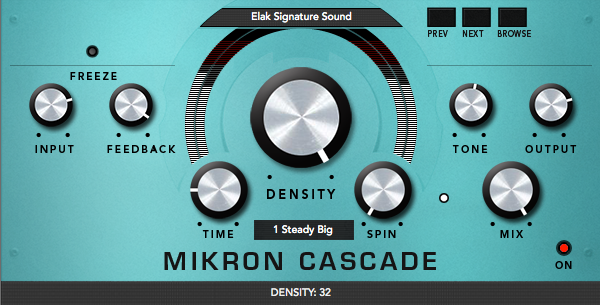 Freeze the current delay buffer

View and save presets

Organize your presets in folders

Control the input signal level

Control the amount of repetitions

Densify the input signal up to 5832 times

Determine if the focus of the effect will be more in the high or in the low.

Control the output signal level

Set the delay time

Choose between 6 different delay network models

Add movement to the delay

Mix between a dry and a wet signal

System requirements
Windows : 7, 8, 10
Mac OS X (Intel only): 10.7 (Lion), 10.8 (Mountain Lion), 10.9 (Mavericks), 10.10 (Yosemite), 10.11 (El Capitan), 10.12 (Sierra), 10.13 (High Sierra)
Please note that the AU plugin will only show up in Mac OS 10.13 (High Sierra) after you rebooted your computer.
Mikron Cascade is available in VST (32-bit & 64-bit)/AU (32-bit & 64-bit)/AAX (64-bit) format.