Them About Us
Adds mojo to just about anything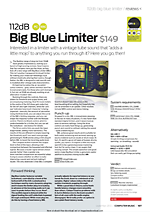 Dropped in a mix, BBL is immediately pleasing to the ear. In many situations, it's less harsh than standard digital limiters, and it stays musical, even at extreme settings.
Using the drive control can really heat things up, generating punch and overdrive without ruining the sound--quite a balancing act. BBL achieves great results and is suitable for both subtly enhancing and seriously spicing up source material such as vocals or drum loops.
In fact, it's worth a go on all types of busses: drums, synths, you name it. It imparts a little too much warmth to be a general-purpose mastering tool, but for some mixes, it can supply that missing oomph. The simple operation and good sonics make Big Blue Limiter a genuinely useful addition to anyone's mixing toolkit.
8/10
Computer Music (Issue 155, September 2010)
Should be in everybody's arsenal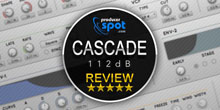 Cascade by 112dB is a great new synth, bringing something new to the table and the soundscapes you can make with this synth are just awesome. The layout of this synth has been kept nice and simple, and really easy to use. This makes Cascade especially fun when you already know the recipes to some signature sounds and add some cascade synthesis to the mix - this can really lead to some fun places.
In my opinion, Cascade is one of the best software synth plugin released this year, and it should be in everybody's arsenal because it sounds awesome it brings something new to the table and its simple and easy to use.
ProducerSpot (2016)
The same mix, but more pro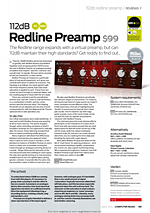 Many engineers will attest that differences between preamps become apparent when they're used on every track in a project, so we plonked an instance of Redline Preamp on every track in a busy mix, to simulate running the tracks through an analogue summing device or console... and Bingo!
Whereas the elements of the mix had previously been jostling for sonic space, the tube sim's gentle taming of errant dynamics enabled each to sit in its rightful place, giving greater cohesion. It sounded like the same mix, but smoother, easier to listen to and more 'pro'.
Driving the low band of a bass sound can make it more consistent across different notes. The treble band does a fine job of highlighting the 'breath' of sound sources (and we don't mean just vocals). And it's ideal for use with edgy guitar sounds: more of the harsh treble can be cut with EQ, then air, sparkle and presence 'restored' with Redline Preamp.
More experienced engineers may find that Redline Preamp is just what they need to kick their mixes up a notch or two. If you're already creating good mixes, try Redline Preamp - it could be just what's needed to edge them towards greatness.
9/10 (Performance Award)
Computer Music (issue 149)
A plug-in that should inspire many imitations
Redline Equalizer represents a landmark release in many ways. It's probably the most feature-packed and original EQ we've ever encountered, and its dazzling array of controls and options are more than just gimmicks--they really do make it incredibly versatile. And more than that, they set a number of precedents for what's possible and what we should expect from future EQ units.
Make no mistake, this is a ground-breaking plug-in that should inspire many imitations.
Redline Equalizer is a well thought-out EQ with a unique and comprehensive feature set and a great sound.
10/10 (Editor's Choice, Innovation, and Performance Awards)
Computer Music (issue 145)
Make Sure You Get Your Hands On This One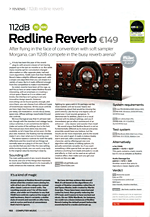 One of the things that impresses us most about Redline Reverb is its musicality. It really enhances the material, rather than fighting for space with it. Like the top-end digital units of yesteryear, it just sounds gorgeous.
It's the sound that truly sets it apart. It really is indescribably warm and lush, with a sound-enhancing character. With plenty of editing options, it's actually extremely versatile.
So, if you want something a little special that can spice up and enhance anything from leads and pads to vocals and effects, or that can be used as an upfront creative effect, then make sure you get your hands on this one.
10/10 (Computer Music Performance Award)
Computer Music (issue 144)
Simply essential, period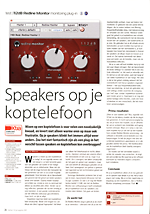 Determining settings that significantly reduce the transition from speakers to headphones is a quick and easy process. It also features a number of useful features, such as a phase switch and a mono compatibility check, that make monitoring easier.
Does it have any disadvantages? Not really. I tried the plugin with three different pairs of headphones, and it worked great in all cases. Moreover the sound character of each pair of headphones was kept intact.
The flexible copy protection is also worth mentioning.
Verdict: if you do any regular and prolonged mixing on headphones Redline Monitor is simply essential. Period.
Interface Magazine (issue 130, Jul-Aug 2009)
Reference listening wherever you go

When we later listened over large expensive speakers we realized that 112dB's plugin really contributes to better mixes. A clear advantage is that once you have familiarized yourself with Redline Monitor you have your reference listening environment with you wherever you go, provided that you have a portable Mac.
MacWorld Sweden (issue 64)
Part Of My Default Stereo Setup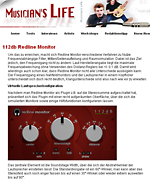 This plugin offers a very useful tool for mixing and listening on the go, and moreover sounds convincing. The parameters allow finetuning to individual listening situations.
At first the changes appear rather subtle. However prolonged listening through headphones turns out markedly more pleasant and free from listening fatigue.
The functionality offered by Redline Monitor is convincing and makes it a easily configurable and effective tool that will be part of my default stereo setup.
Musician's Life (22 Apr 09)
Morgana should be your first choice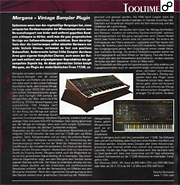 112dB has spent considerable effort on emulating the look, sound, and most of all the ease of use of vintage hardware. Morgana's sound is dirty and raw, but not at all like the coarse and unsubtle results of bitcrushers.
The plugin shines when it comes to effortlessly generating grainy and dirty sounds but with authentic vintage flair. If this is what you're after Morgana should be your first choice.
Sonic Seducer Magazine (April 09)
Sampling Has Never Been Easier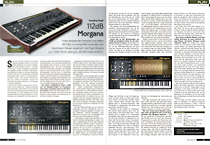 Sampling has never been easier. The entire process is very streamlined and direct. Once the samples have been recorded, the real fun with Morgana's lofi components has only just begun. And even though we were initially skeptical about yet another vintage plugin: Morgana is a lot of fun.
If you think the Morgana sound can also be achieved through regular effects, you're wrong. The detailed design of the "bad" signal paths and the integration into a real instrument with dedicated filters and envelopes per voice allows for very different sounds than a simple bitcrusher. The plugin interface is close to perfect and allows for detailed sound control.
KEYS Magazine (March 2009)
It's mission accomplished for 112dB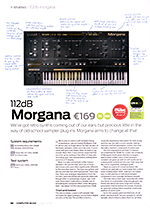 The simplicity of Morgana's front panel is hugely appreciated. Unlike many of the hardware samplers we grew up with (or soft synths we've subsequently embraced) this one really does feel like a nice, ergonomic analogue synth.
Absolutely the best thing about Morgana, though, is the actual sound. 112dB have gone to great lengths to replicate not just the low-quality chips used in yesteryear's gear, but even the idiosyncrasies of the internal wiring.
This instrument imbues samples with a sonic character that will be unlike anything else in your mix, helping them to stand out. Perhaps you could achieve something similar using a bit-crushing plug-in, but nothing else quite emulates the lo-fi effect that old circuitry had in precisely the same way.
It's certainly a very valuable and desirable recreation of the best bits of old-school samplers.
8/10 (Computer Music Innovation Award)
Computer Music (issue 128, August 08)
A refreshing, great sounding and insanely useful look back to a purer sampling time!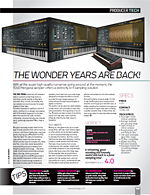 Morgana resolutely models itself on the type of early samplers that cost as much as a Ferrari. But boy, did it sound great! Morgana does a very credible impression of that sound.
It's fair to say that Morgana has a unique sound that will cut through your mix with ease. It makes sampling fun and will encourage you to get hands-on again after years of being a passive samplist. Any of these three reasons alone make it a very desirable package indeed.
Tech verdict (out of 5): 4.0
DJMag (issue 63, July 08)
Classic 8-bit sound with all the highs and lows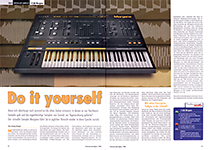 Morgana not only faithfully reproduces all sonic advantages of first generation [samplers], it also manages to revive the long forgotten joys of sampling your own sources.
From an artistic point of view extremely interesting sound spectrums can be obtained.
The SampLink plugin opens up comfortable and flexible ways to create audio material fast, something that current virtual samplers do not offer. Morgana makes this process incomparably faster and less complicated.
Terribly beautiful 8-bit sound.
Features: good-very good. Interface: very good-excellent. Sound: very good.
Professional Audio Magazine (issue 7, July 08)